I always wondered if a blog that does nothing but talk about the details of somebody's life would get any readers and that is what I find myself doing these days and yes, the answer is "I do get some readers."  I don't get a carload of readers but the readers that do honor me by visiting my blog are more precious to me than gold and I love them just as much as if they were my own flesh and blood family.
So here I am, this morning, doing it again … blabbing my guts out about this and that and everything and nothing in particular.  Thank you for your patience and your kindness.
Breakfast this morning was something I had never tried before.  The thing that I tried for the first time this morning is called "Goetta."  I had Two ounces of fried Goetta and two eggs.  The meat/grain combination was pleasant enough and it had some hot pepper in it that made it even more enjoyable. Here is an expiation "Goetta" —is a meat-and-grain sausage or mush of German inspiration.  It is primarily composed of ground meat (pork, or sausage and beef), pin-heat oats and spices.  It was originally a dish meant to stretch out servings of meat over several meals to conserve money, and is a similar dish to scrapple and liver mush, both also developed by German immigrants.  Serving for serving, it surely is less expensive than plain old sausage.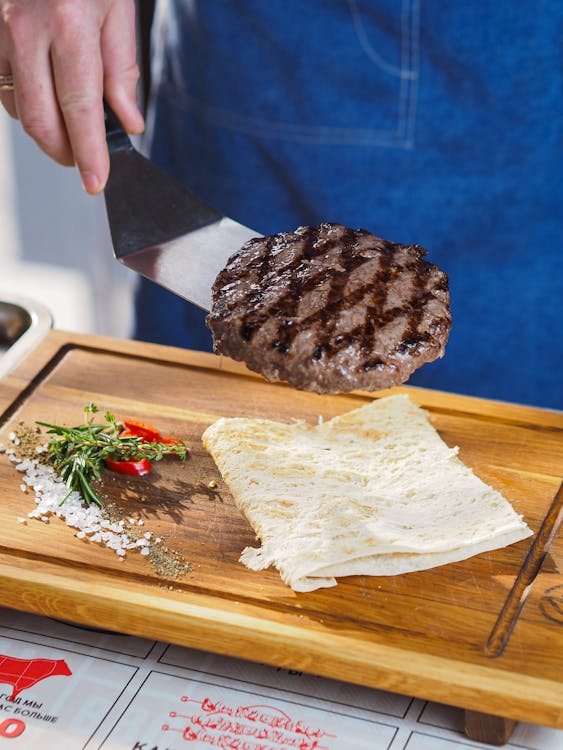 https://www.pexels.com/photo/grilled-hamburger-patty-on-spatula-11713753/
Chasing The Fat
After years of worrying about being overweight, I am coming to the decision that I should be satisfied with myself the way I am.  My years-long obsession with weight control and dieting has caused me nothing but grief and worry, and I am starting to think that as long as I am healthy and fit, I should just lay back and stop ruminating and just enjoy what life I have left.

https://unsplash.com/photos/5jctAMjz21A
I ordered a new set of Reebok "Ridge Rider" mens' hiking sneakers today because I love the Reebok brand and the Ridge Riders have rubber soles which means that the shoes are slip resistant.  With all those shiny floors at the Veterans Administration Medical Center and in the various retail establishments … floors that look like they are made of ice or that they are covered with oil or something …I need a slip resistant shoe.
I would like to mention at this point that I am not being compensated in any manner whenever I mention a product name here on this blog and I am not advertising any products.  I am sharing information about products that I have in my possession or that I would like to have or that I have ordered.
So now I have finished another blog post and if anything else happens that I think is interesting, I will be back on here to share again.
Until then, thanks for reading.